You begin a DiagramStudio diagram with a template — a file that opens one or more libraries that contain the symbols you need to build your diagram. After you open the template, add symbols to your diagram by dragging them from a library onto the drawing page. If you need other symbols, you can find them by opening other libraries.

When you start a diagram with a template, you automatically get all the symbols and tools you need to create your diagram. For example, when you open the Basic Flowchart template, you get the all the flowchart symbols and connectors that you need to create a flowchart. If you don't know which template to choose, click the Block Diagram category, and then click the Basic Diagram template to start out with. It opens the Basic Symbols library, which contains rectangles, circles, triangles, arrows, and so on — many of the basic symbols you might need to create any diagram.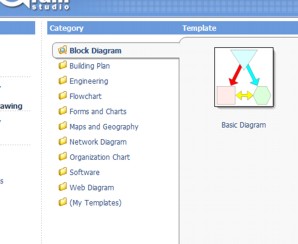 To create a drawing:
1. Start DiagramStudio.
2. Under Category, click Block Diagram.
3. Under Template, click Basic Diagram.
A drawing page appears, with the libraries and tools you need to begin your drawing.